27marAll Day[Alliance Française de Busan] Round Table and Pansori Concert with Laure MafoExternal Events:External Events
Event Details

In celebration of French language and Francophone Week, Alliance Française Busan invites ECCK's members to Round Table and Pansori concert with Laure Mafo on March 27.

Round Table for all French language teachers in Busan, including professors and lecturers from university departments, but also French language teachers in Busan highschools. The debate takes place in presence of the Cultural Advisor of the French Embassy and also of the advisor in charge of linguistics and educational affairs of the French Embassy. Some 25 participants signed up to join the Round Table debate. The Round Table will take place on Saturday, March 27th from 2 p.m. – 5 p.m. at the I-Park Hyatt Hotel in Marina City, Busan Haeundae.

On the same day, the Alliance Francaise and the French Embassy also propose a Pansori concert with Laure Mafo, a Franco-Cameroun singer currently residing in Korea. She will perform two concerts in respect of social distancing measures at the Art Space Alliance Francaise of the GoEun Foundation / Photo Museum in Busan Haeundae: art space (artspace-afbusan.kr) The event receives the support of a private sponsor: Dongsung Motors (BMW MINI). The concert will take place at 4 p.m. and 5:30 p.m.

Access to both events is on invitation only and require prior reservation at: direction@afbusan.co.kr (Martin Beyer). For more information regarding the event, please check the attached brochures below: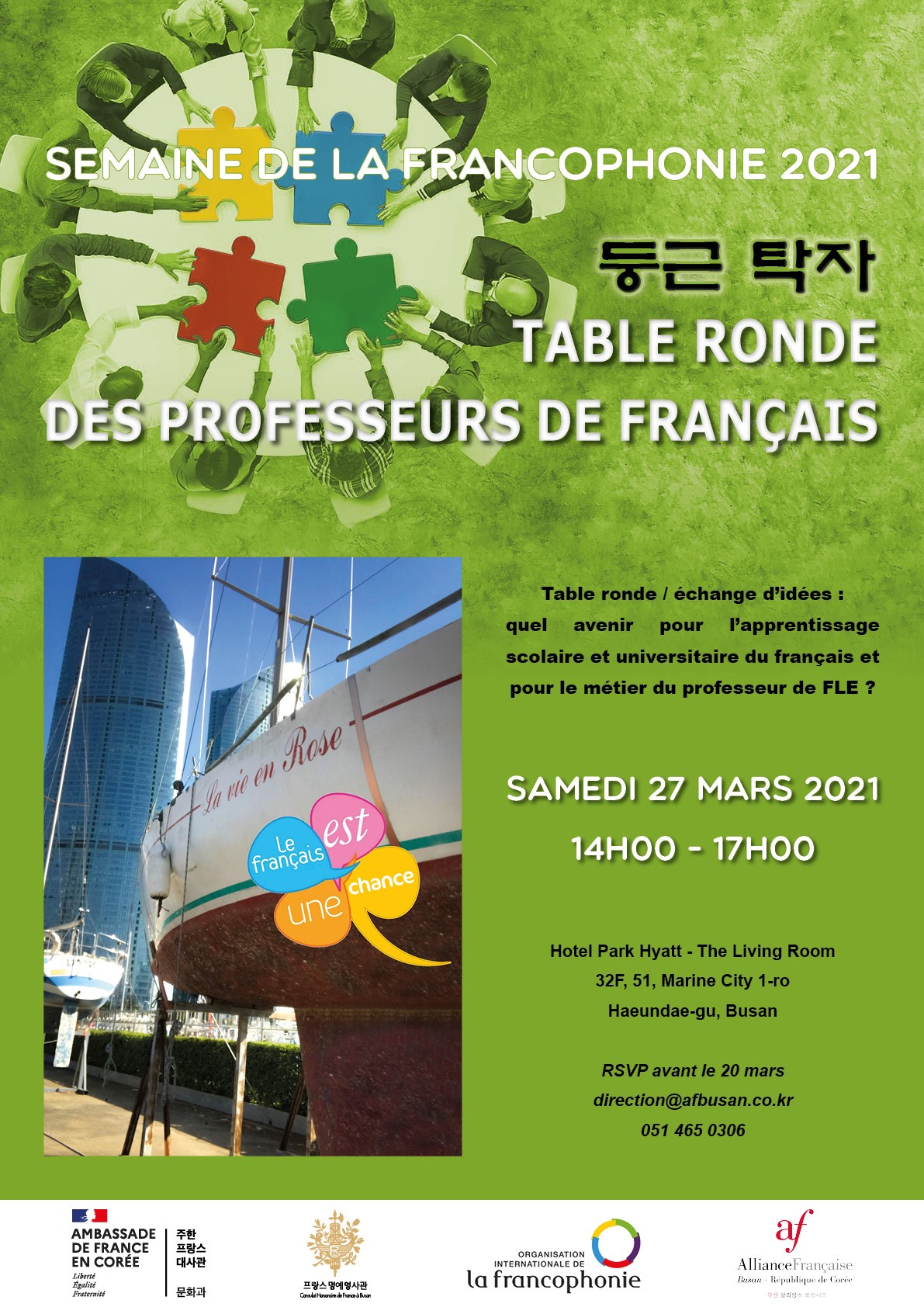 March is the month of Francophonie with the yearly celebration of French language and Francophone events around March 20th – The official Day of Francophonie and the International Francophonie organization – OIF : www.francophonie.org. South Korea is member as an observer country of the OIF since November 2016.