04dec8:00 PM10:00 PM[EXTERNAL] KBAA Career Talk WebinarExternal Events:External Events
Event Details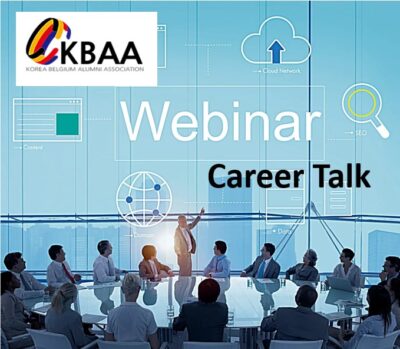 Korea Belgian Alumni Association is organizing a Career Talk Webinar !
Friday  04th December 2020, from 8 pm to 10 pm.
Please click this LINK and register by filling the form to retrieve the ZOOM link
Comprising of 4 distinguished speakers with work experience in Korea and prestigious organizations, the session is open to all, note that the first two sessions will be in English and the last two sessions will be in Korean.
The agenda for each sessions is detailed below :
Session 1 (in English) – STEM at Solvay with Chemistry – Case of Korea and Asia Pacific
Speaker : André Nothomb (Executive Vice-President, Head of Government Affairs Asia Pacific, Solvay Asia Pacific)
Agenda :
– Solvay and Solvay's sustainability goals
– Sustainable Portfolio Management
– Solvay in Korea and Asia Pacific
– Employment at Solvay
– Q&A
Session 2 (in English) – Cheers with AB InBev
Speaker : Peter Sauer (Vice-President of Supply in AB InBev Korea – 오비맥주)
Agenda :
– Who we are : No. 1 Beer Company
– Our Business in Korea_오비맥주
– People is our no. 1 Priority : GMT/SET program
– Q&A
Session 3 (in Korean) – Career in UNHCR
Speaker : Yoojin Son (UN High Commissioner for Refugees)
Agenda :
– Education and career path in Belgium & Korea
– JPO process including interview questions; treatment, payment, and welfare system of UN international staff
– Working in UN system – pros and cons
– Q&A
Session 4 (in Korean) – How and why I got a job in Korea
Speaker : Seungyon Oh (Kia Motors Corporation)
Agenda :
– Getting a job with my experiences outside of Korea (Oversea sales, 해외영업)
– Job searching process by knowing myself
– Q&A
Each session is approximately 30 minutes.
To find out more about Korea Belgian Alumni Association
https://www.koreabelgium-alumni.com/
koreabelgium.alumni@gmail.com
Time

(Friday) 8:00 PM - 10:00 PM