25octAll DaySustainable Business Innovation Forum (SBIF): SDG Action through Public-Private PartnershipExternal Events:External Events
Event Details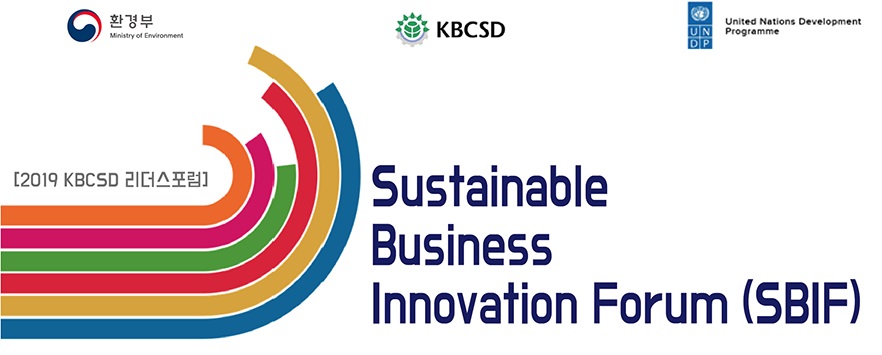 Sustainable Business Innovation Forum (SBIF): SDG Action through Public-Private Partnership
– Programme Agenda –
Date and Venue
Date: October 25, 2019, Seoul, Republic of Korea
Venue: Grand InterContinental Seoul Parnas (Grand Ballroom 5th FL), Seoul, Republic of Korea
Objectives
Transformative technology and innovation is becoming a key enabler for achieving sustainable economic growth. Companies that can navigate this transformative shift will lead the way to new business opportunities and future growth.
Against this backdrop, the "Sustainable Business Innovation Forum", co-hosted by the Korean Ministry of Environment, the United Nations Development Programme (UNDP), and the Korea Business Council for Sustainable Development (KBCSD), serves as a high-level platform for business leaders, government ministers and international organizations from Korea and other parts of the world to:
Explore frontier technologies and innovative business models that will accelerate the transformative path towards sustainable and inclusive development, particularly in such areas as smart manufacturing, plastic alternatives, energy transformation and smart cities;
Examine policy measures and governance framework that will scale up the business sector's technology and innovation solutions towards sustainable development;
Share what technologies and business models are in demand for developing countries to meet the Sustainable Development Goals and how the business sector can engage in relevant UNDP projects to create social, environment and economic values.
Co-host Organizations
Ministry of Environment, Republic of Korea
United Nations Development Programme (UNDP)
Korea Business Council for Sustainable Development (KBCSD)
Invitees and Speakers
Main Audience
Over 250 corporate executives from Korea's leading enterprises, world first-class companies, ministerial government officials, and heads of UN and international organizations representing Korea and the Asia Pacific region will attend the event.
Speakers
Korean Minister of Environment, UNDP Administrator, KBCSD Chairman
Executives from world-class companies spearheading sustainability and innovation
Influential politicians, government officials and UN representatives from the Asia Pacific, etc.
****Simultaneous interpretation is available in English and Korean
For RSVP click HERE. If you have any inquiries, please contact KBCSD tel: 02-6000-7662 or 7665 , email: chaiun@kbcsd.or.kr or syb@kbcsd.or.kr)