11nov4:30 PM6:00 PM[External] The LEGO Group's - 'Rebuild a more Sustainable World' 2022 WebinarExternal Events:External Events
Event Details

The LEGO Group is pleased to invite you to join us for this special webinar: 'Rebuild a more Sustainable World' on TEAMS Live:
Date: 11th November 2020
Time: 3.30pm – 5.00pm (SGT) / 8.30am– 10.00am (CET) / 6.30pm – 8.00pm (AEDT)
You are cordially invited to join us virtually as our guest. Register your attendance here.
This webinar on 'Rebuild a more Sustainable World', will bring insights on how children should have access to opportunities to develop the necessary 21st century skills to thrive in the future, and how we should join forces together to create a more sustainable future.
H.E. Lars Bo Larsen, Danish Ambassador to Indonesia, Timor-Leste, Papua New Guinea, and ASEAN will be gracing this webinar, to deliver the opening address and kickstart the programme.
We hope you will join us to rebuild a more sustainable world together!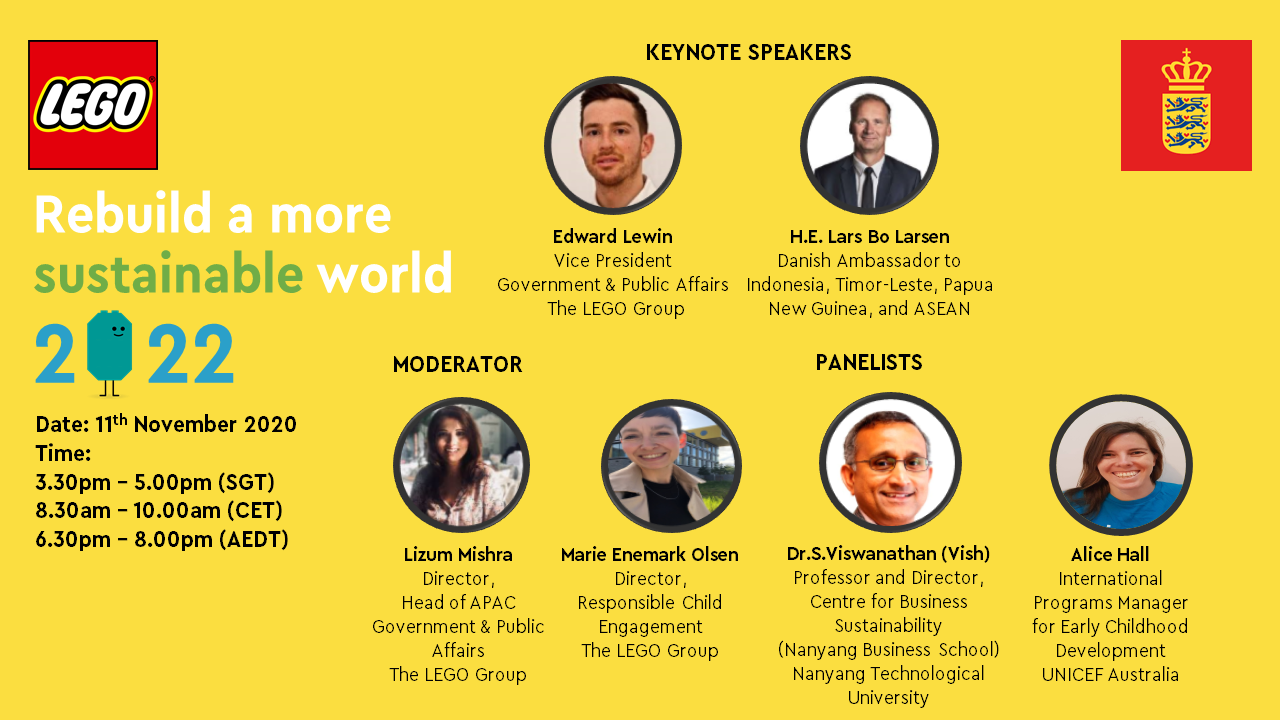 Program:
3.25pm Webinar waiting room opens 

3.30pm Welcome Address 
H.E. Lars Bo Larsen, Danish Ambassador to Indonesia, Timor-Leste, Papua New Guinea, and ASEAN
3.40pm Introductory to the LEGO Group's Sustainability 2022
Edward Lewin, Vice President, Government & Public Affairs, The LEGO Group
3.50pm Introduction of the Panelists
Lizum Mishra, Director, Head of APAC Government & Public Affairs, The LEGO Group
4.00pm Panel Discussion and Q&A
Marie Enemark Olsen, Director, Responsible Child Engagement, The LEGO Group
Dr.S. Viswanathan (Vish), Professor and Director, Centre for Business Sustainability (Nanyang Business School), Nanyang Technological University
Alice Hall, International Programs Manager for Early Childhood Development, UNICEF Australia
Moderated by: Lizum Mishra
4.45pm Play Activity / Closing 

5.00pm End of Programme 
Time

(Wednesday) 4:30 PM - 6:00 PM